24 Oct
Soluxtec will mit neuem Modul in Deutschland punkten
Der Photovoltaik-Hersteller produziert seit elf Jahren in Bitburg und baut derzeit seine Kapazitäten auf 200 Megawatt aus. In Kürze soll die Produktion des neuen Solarmoduls voll anlaufen, für das Soluxtec in Warschau einen Preis für den innovativen Ansatz für Nachhaltigkeit und Müllvermeidung gewann.
Quelle und gesamter Inhalt: https://www.pv-magazine.de/2018/10/23/soluxtec-will-mit-neuem-modul-in-deutschland-punkten/
23 Oct
Modul Monokrystaliczny SerII FR60
18 Oct
EXPOSITION WARSAW OCTOBER 2018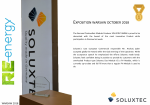 The German Photovoltaic Module Producer SOLUXTEC GMBH is proud to be decorated with the Award of the most innovative Product while  participation in Warsaw last week
Soluxtec´s East European Commercial responsible Mr. Andrzej Zyber accepted gladly the Award while the Gala evening of the Exposition. While the acceptance speech he emphasized the efforts Soluxtec made lately. Soluxtec feels confident being in position to provide its customers with the overhauled Product type Soluxtec Das Module V2 a PV Module, which is currently up-to-date and full fill more than a regular PV Module is used to do.
05 Jul
New DAS MODUL PRO²

Designed for large scale PROfessional's PROjects
Modules binned by current to improve
PROject system performance, Positive performance Tolerance.
10 year warranty
More information : DAS MODUL PRO²
14 Mar
20 year warranty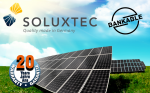 Now 20 year warranty on our products
SOLUXTEC has announced its new manufacturer's warranties. Product guarantees are being extended from 10 years to 20 years. Which is reassuring to investors, given that the efficiency of the modules averages out at 80.20% over 25 years. Good news never comes on its own: SOLUXTEC products have been certified as "Grade A investments" by the France-based organisation ORAVIA. It goes without saying that this certification is a significant asset and assures potential clients of greater financial security. What is more, SOLUXTEC is pulling out all the stops to guarantee the quality of its products to clients through constant development, an increasingly innovative range of products, and by providing excellent service at all times. This can be seen in the general integration of the embedded technology DELight, which monitors the modules' production.
07 Sep
Soluxtec @ Turkey

10 Mar
SOLUXTEC Das Modul R.E.D Desert Serie
Soluxtec präsentiert Ihnen ein neues Photovoltaik Modul: SOLUXTEC Das Modul R.E.D. Desert Serie
16 Feb
SOLUXTEC Das Modul Mono 300Wp
Soluxtec presents a new photovoltaic module: SOLUXTEC Das Modul Mono 300Wp
28 Aug
SOLUBLOC
SOLUXTEC has developed a new product of autonomous concept 100% powered by solar energy, SOLUBLOC.
Based on containers, Soluxtec is able to design SOLUBLOC exactly in the way that our customers are looking for, the limit is just the imagination!
Soluxtec is pleased to share with you the 2 first concepts now available.
Much more to coming soon...
Please contact us for more details.